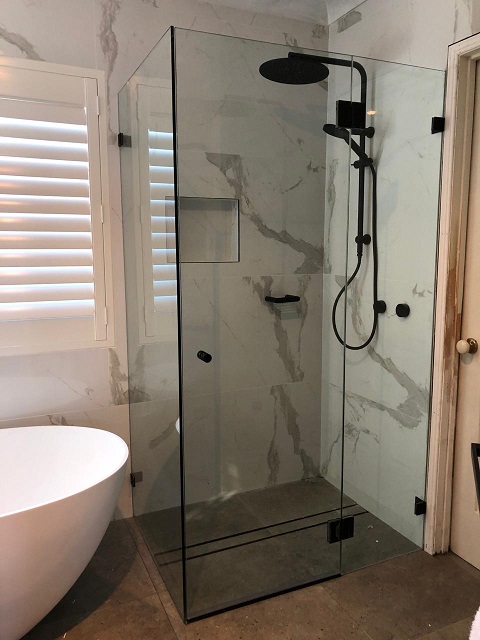 There was a time when a bathroom was only associated with providing utility. As long as it served its purpose, nothing else mattered, especially the aesthetics. However, over the years, humans realized that a bathroom could be more than just a bland room serving its purpose; it can be a tastefully designed section in a home where people can unwind under a refreshing stream of water. Besides, the frequent usage of a bathroom made working on its visual aspects that much essential.  
As a result, many elegant bathroom accessories and fittings came into existence, a shower glass being one of them. Although a shower screen is not just a design element, it has a job to do as well, which is keeping the shower water in a confined section.  
Whether a homeowner decides to install a shower screen for its utility or chooses one for aesthetic appeal, they will benefit substantially. That said, picking out a quality shower screen can be a struggle, thanks to the extensive variety combined with unreliable dealers.
If you want to find the best shower screen for your bathroom, here are some essential tips to help you decide.
Look For a Certified Professional
In today's technology abound world, setting up a business is a cakewalk. All anyone needs to start an enterprise is to design a website, claiming to be an expert in the field when, in reality, they might be absolutely clueless about the job. As a result, gullible customers end up losing money by getting low-quality products or no products at all.
To stay away from such con artists, one should always look for certified, credible dealers for everything, including shower screens.
Shower screens are made of glass, which means they need to be robust to stay firmly erected. For this purpose, experienced professionals use toughened glass, so if you deal with a professional, you will most likely get quality shower screens. However, if you come across a fraud, you might end up with a shoddy shower glass that is an explosion risk. That's right! A low-quality glass pane can burst into shards without warning due to pressure.
Keep yourself and your family safe from any unpleasant accidents by choosing a licensed shower glass dealer for your bathroom.
Choose the Best Quality Glass
Many times homeowners don't pay much attention to a shower glass because they see it as just a partition that keeps water from leaving the shower area. While that's true, it's not the entire truth.
Even though a shower screen has to act as a barrier for the shower water, it stays in close contact with anyone using the bathroom. This means, if the glass shatters due to its low quality, the person nearby will get hurt. Moreover, a low-grade glass can slit the skin if it's not sanded correctly. And sometimes even sanding doesn't help with cuts; one off-center collision into the screen and you can slash yourself badly. So, never try to skimp on glass quality when buying a shower screen because you think it's just a parting wall, so it doesn't have to be top-grade.
Choose the Style but Consider Technicalities As Well
Shower screens come in various designs. From L-shaped screens to wall to wall enclosures, there is an extensive range of options to choose from. While having so many choices is helpful, it's also quite confusing, which is why many times homeowners don't realize which style will work for their bathroom.
In other words, a comprehensive array of choices doesn't necessarily help the selection process. Generally, people go for what they find visually appealing, but that might not be practical for them.
So to make the right choice, you should consider your bathroom's needs and choose the style according to that. Moreover, if you have a particular cutout in mind that you want, you should ask your dealer which type of glass will work best for that. But that's only possible if you go to a licensed tradesperson because they'll know how to guide you and what will be the right option for you.
Keep Maintenance Needs in Mind
Like most bathroom accessories and fittings, a shower screen requires some maintenance, depending on the selected variety. But regardless of choice, a homeowner has to maintain a shower screen to some extent.
If you don't want to spend too much time and effort cleaning your shower glass every other day, you should look for a low-maintenance model, like a frameless shower screen. But if you are up for some rigorous housekeeping, you can get whichever design you want.
In sum, factor in maintenance needs when weighing shower screen options.
Inquire About Sealing
Who doesn't love to splash water around when dancing in the shower? Most people do! And even if the ones who like to take boring baths end up sputtering water everywhere. This means a shower screen often comes under relentless water attack. And excessive exposure to moisture can lead to unsightly growths on surfaces.
Even though glass is not as prone to mold and mildew as, let's say, wood, it can get unflattering over time. Naturally, when you get a shower screen, you will drench it in shower water pretty frequently, so you should ask for sealing at the time of your purchase. And if you choose a framed shower glass, its rims will always be more at risk of becoming unappealing.
Ask For a Sturdy Structure with a Secure Closing
It goes without saying that having a sturdy structure is an absolute must when talking discussing shower screens. Since everyone in a house comes in contact with shower glass, it needs to be robust so that nobody gets hurt.
 But besides being tough and durable, a shower sheet needs to have a secure closing if it features one. Water is quite sneaky and meanders its way anywhere. So if a shower cabin doesn't have a secure closing, the shower water will leak through the slits and damage other bathroom fixtures, such as pipes or tiles. Ensure the shower screen you get does its job right and doesn't let water pass through anyway.
Ending Note
While all the mentioned tips will help you get a quality shower screen, if you abide by the first one, everything else will automatically fall in place, and you will end up with the best variety.