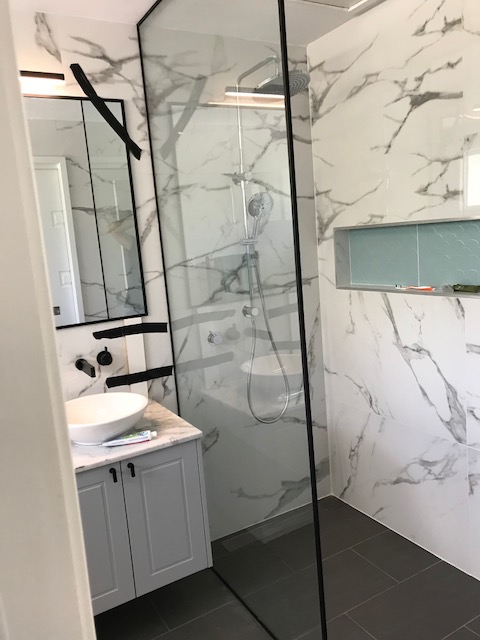 A picture of a fix panel glass shower cabin
Installing a glass shower enclosure is the easiest, perhaps the most effective, and economical way to breathe new life into a bathroom. Even the dullest and worn-out bathrooms are enlivened the moment you place a shower screen. While a convenient way to pep up a bathroom, shower glasses require a moderate amount of maintenance. After all, glass panels are involved, which means there is always a risk of fissures or bubbles to surface.
When homeowners fail to rightly maintain their shower screens, the glass splits, becoming an explosion risk for anyone who uses the cabin. And believe it or not, a cracked glass pane can shatter anytime without warning, leaving everyone in proximity injured. Keep yourself and your family safe by keeping up with your shower glass's upkeep and if you notice a fracture in your shower enclosure, get it repaired immediately.
But you should know that getting shower screen repairs requires a little homework. You cannot (and shouldn't) hire just about anyone to repair your shower glass without asking questions, let alone leaving your bathroom at their mercy.
If you want a job well-done, here are some essential questions you should ask before getting shower screen repairs.
What's The Extent Of Damage?
If you do not have much knowledge about shower screens (as most homeowners do not), you cannot assess the degree of damage your shower glass has. Therefore, you shouldn't directly hire a repair team to replace the entire glass enclosure; instead, ask an expert to evaluate the damage and give you an estimate.
Naturally, a professional will know everything there is to know about shower cabins, thereby will guide you better. But if you choose to forgo professional expertise and decide what needs to be done on your own, you might end up spending more money than you need to.
Do You Need Repairs Or Complete Replacements?
Let's say you have the most exquisite shower cabin, and you absolutely adore it. One day you notice a tenuous slit in one of the glass panes, you begin to spiral and decided to get the whole structure removed and replaced with a new one. Doing so may give you peace of mind, but it might not be necessary at all.
Sometimes a glass sheet can develop a light scratch, but that's not anything earth-shattering. It can happen for any number of reasons and might not require a drastic measure. Ask a shower screen expert before you decide anything because, more often than not, those unsightly scratches on a glass pane can be DIY removed.
Can Diy Repairs Work?
Linking back to the previous question, if you see marks or scratches on your shower glass, try to take care of those yourself. It's easier than you think. You can find a bunch of DIY hacks to fix a scratched glass panel on the internet, but to get you started, here's a quick remedy.
Take a lint-free cloth and put some toothpaste on it.
Apply the toothpaste on the nicks you want to be removed
With a firm hand, rub the paste over the defective area for 10 to 15 minutes
Once the toothpaste has significantly diffused, use another lint-free damp cloth to wipe the residue.
Repeat the process if necessary.
How Much Is The Repair Going To Cost?
A rough cost estimate is not always the same as the actual cost incurred after a repair job. When you hire someone to get shower screen repairs, be sure to discuss charges before signing them on. Ask them for every account head for which they will be charging you. Doing so may seem a bit much, but it's not unless you want to lose your hard-earned money without reason.
Just because a shower screen repair seems a simple job doesn't mean it is without stakes. You are as much at risk of being conned as for a house makeover. In fact, the chances of fraud are much higher in something seemingly inconsequential, such as shower screen repairs.
If you don't get a fair, justifiable quote from your repair team, you can be asked for an extortionate charge after the job is done.
And you might have to pay more money for repairs than you did at the time of installation.
Is It Easier To Replace A Shower Screen?
When getting shower screen repairs, you should look into the more convenient and faster option. That is, ask the team of experts you plan on hiring if getting a replacement will be better than repairs. Sometimes, repairs may seem more cost-effective, but they might bring in a lot of inconvenience and days of work. But a replacement, on the other hand, maybe relatively costlier; it will take a short while, which means less hassle for you and your family members.
You should decide if you want to do what's convenient for you or go for the other option because it is a tad bit cheaper. That will prepare you for what's to come, i.e., whether you should prepare yourself for a few days of repair work or just a day for replacement?
Do I Need Certified Shower Glass Repairers?
Many times, homeowners delude themselves by assuming that they don't need to hire professional repairers when the task at hand is quite straightforward. But that's not the right approach.
Just like at the time of shower glass installation, when getting repairs, you should recruit certified craftspeople because they will know what to do exactly and what's the best way to do it. Moreover, licensed professionals have the necessary tools to correctly do their job, unlike any random quack claiming to be a repair person.
Don't take any chances just for the sake of a few bucks because you never know how an unprofessional repairer might mess up the repair-work and cost you a hell of a lot more in the long run. Why take such a risk?
You should also remember that a slipshod repair job puts you and your family at risk of getting hurt. With an uncertified serviceperson, you can never be sure if they fixed the shower cabin right or just gave it a quick fix. This means you will always have the sword of Damocles hanging over you, waiting to drop at any moment.
Ending Note
Keep yourself and your family safe from any shower-glass related accidents by maintaining your cabin well or getting it fixed when you spot a defect. But remember to hire professionals for repairs!